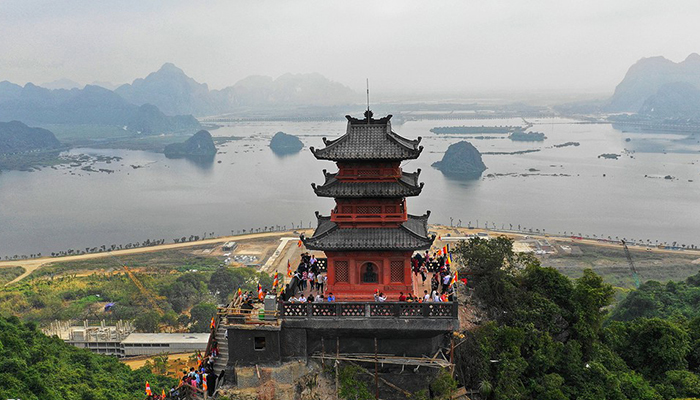 GEO - CULTURAL FACTORS
The geo-cultural factor is the territory of the land, the specific characteristics and advantages of geographical position, the natural conditions that directly affect and leave a mark in the cultural life of residents. The culture of the residents of BR-VT contains territorial marks not only because of the residents' long-term attachment to the land, but also because from the beginning to settle and reclaim land, the features The specific geography of the land had certain impacts on their life…

As a top land area with windtight estuaries very convenient for traffic, BR-VT is the place where Vietnamese people from the Central region were from the earliest and the earliest explored in the South around the seventeenth century. From then until the middle of the nineteenth century, the face of the BR-VT land had profound changes. From a wilderness, in front of the sea, the coast has only mudflats and mangroves; behind them are hills and mountains, dense forests have become rich fields and villages. Resources of land, sea, forests have been exploited extensively to serve people's increasingly prosperous life.

Vietnamese immigrants coming from the Central region were the subject of these great changes. They left for different reasons, from different localities, but in the new land they all have the same will, a desire to create a prosperous, fair and better life. The descendants of those who opened the land continued to unite, embrace each other, together, to build their homeland increasingly rich and beautiful. It is the spirit of community solidarity, industriousness and creativity to overcome many difficulties and challenges of the first land opening and building new life that has forged the fine traditions of the BR-VT people later.

Because BR-VT is the earliest place to set foot and explore in the South, so this place has become a gateway to receive and a springboard for the immigrant classes to then penetrate further inland and continue to advance. to the South. BR-VT at that time was a stopover station, a transit step for immigrant groups. It was the role that took on that task in the early days of exploration and construction that gave BR-VT a community, tolerance, hospitable, and loving personality as if loving. This tradition is clearly shown in important historical moments in the transformation of BR-VT. During its formation and development, BR-VT has always been a "gateway to receive / transfer passengers" (reclaimed residents from outside the country; workers in rubber plantations, people migrated from the North and the Center in due to the US-Diem's ​​intriguing scheme to divide and be an important area to "transit" revolutionary forces in the two wars) ...

To a certain extent, the population transfer process is also the process of transferring cultural elements of regions so that many cultural factors have been suspended / transformed and become unique in the Cultural synthesis in this land ...